1 December 2010
IFEX members speak out on WikiLeaks
First some background: according to the "Guardian", there are 251,287 dispatches in all, from more than 250 U.S. embassies and consulates. "They reveal how the U.S. deals with both its allies and its enemies... all behind the firewalls of ciphers and secrecy classifications that diplomats assume to be secure."

WikiLeaks posted a selection of the cables on Sunday, while the "Guardian" has published bits independently but simultaneously with "The New York Times", "Der Spiegel" in Germany, "Le Monde" in Paris and "El País" in Madrid. The papers have redacted information likely to cause reprisals against vulnerable individuals and have sought stories of public interest.

"We're more or less satisfied with WikiLeaks' evolution," the head of RSF, Jean-Francois Julliard, told AFP. "We like this partnership with the newspapers and this work to put things in context, verify the information and draw lessons from it," he said.

ARTICLE 19 reiterated its call for governments to improve the public's access to information, and only limit access if governments can demonstrate it would cause a specific and articulated harm. "The rules should not be used to hide other interests. Indeed, the existing U.S. rules on secrecy prohibit classifying information about crimes and as a means to prevent embarrassment. Those rules are ignored far too often," said ARTICLE 19.

That view is echoed by Index on Censorship. In an editorial this week, chief executive John Kampfner lamented that in the U.K. "free speech is regarded as a negotiable commodity. An interest group's right to be offended is seen as just as important as the right to air an opinion. A government's right to secrecy is seen as more important than the public's right to know." He said that as with all free speech, when reviewing material posted by WikiLeaks, "context is key."

"It is vital to know when governments collude in torture or other illegal acts. It is important to know when they say one thing in private (about a particular world leader) and do quite another in public. It is perturbing to know that aid agencies may have been used by the military, particularly in Afghanistan, to help NATO forces to 'win hearts and minds'," said Kampfner.

He continued, "These questions, and more, are vital for the democratic debate. The answers inevitably cause embarrassment. That too is essential for a healthy civil society. Good journalists and editors should be capable of separating the awkward from the damaging. Information that could endanger life, either in the short term or as part of a longer-term operation, should remain secret."

Kampfner said what is most curious is that the WikiLeaks revelations were delivered by WikiLeaks founder Julian Assange, and not by the media, "who should be asking themselves why they did not have the wherewithal to hold truth to power."

All three members are adamant that Assange and other WikiLeaks contributors should not be prosecuted under state secrets or espionage legislation in the U.S. or other countries.

"It is a well established principle that public authorities bear sole responsibility for protecting the confidentiality of official information. Other persons and entities, including WikiLeaks and journalists, should never be subject to liability for publishing leaked information, unless it was obtained through fraud or another crime," ARTICLE 19 said after files on the war in Afghanistan were leaked.

Similarly, ARTICLE 19 said, whistleblowers should be protected if there is a strong public interest in the release of the information and the benefits of disclosure outweigh the harm - even if the whistleblower acted without authorisation.

RSF has for years been campaigning for a U.S. federal "shield law" to protect sources - including for sites such as WikiLeaks. According to RSF, 40 U.S. states have laws that protect the confidentiality of journalists' sources but there is no such law at the federal level. RSF pointed out that the House passed a limited version in July 2008, but with the recent scandal, senators are now trying to exclude whistleblowing websites from it.

~~~~~~~~~~~~~~~Article 19~~~~~~~~~~
10 September 2010
STATEMENT

WikiLeaks and Internet Disclosures

The current debate around WikiLeaks highlights the potential of the internet to make previously secret information of public interest widely available.

ARTICLE 19 calls for governments to improve their regimes for public access to
information, refrain from punishing WikiLeaks and other sites that are releasing
information in the public interest, and to protect and encourage whistleblowers.

ARTICLE 19 welcomes the use of the internet by new and established organisations
as a mechanism to expand and democratise the availability of sources of information.
We believe that this represents a powerful extension of the media's role to receive
information from confidential sources and make it available to the public.

The recent debate around WikiLeaks and the disclosure of secret US government
documents related to the Afghan War Diary and Baghdad airstrike video underscores
the need for strong legal rights to be in place in all countries for the public to seek,
receive and impart information as guaranteed by the Universal Declaration of Human
Rights and other international, regional and national human rights instruments. This
includes recognition of the right to information, protection of whistleblowers, and
facilitating the media's ability to obtain and publish information without barriers.
It should be recognised that WikiLeaks is not the only site on the Internet that
provides a forum for whistleblowers. Other sites, including Cryptome.com and
FAS.org, have provided an important public service making information of this type
available for many years.

ARTICLE 19 believes that the Johannesburg Principles on National Security,
Freedom of Expression and Access to Information, developed by a group of experts
and endorsed by the UN Human Rights Commission, is a proper starting point for
evaluating concerns related to national security information in the Wikileaks debate.
Moreover, we identified the following issues that must be considered in ensuing that
the public's rights under international law are respected:

1. Ensuring the Public's Right to Information
It is well established that the right of the public to information held by government
bodies is essential in ensuring democracy. Over 90 countries have adopted laws that
guarantee that right and it has been recognised in international agreements including
the UN Convention against Corruption, the UNECE Convention on Access to
Information, Public Participation, and Access to Justice in Environmental Matters,

and by many international bodies including the UN, Council of Europe, African
Union and the Organisation for American States.
However, while there has been a significant increase in laws and other instruments
guaranteeing the public's right to information around the world in recent years, access to information is still inadequate in many counties, even those such as the United States with its long history of right to information. This is particularly a problem in the area of information classified as 'state secrets'.

Under international law, governments must show that any restrictions on access to
information are prescribed by law and necessary in a democratic society to protect a
national security interest. Limits on access to information should only apply to
information that governments can demonstrate would cause a specific and articulated
harm.

The rules should not be used to hide other interests. Indeed, the existing US rules on
secrecy prohibit classifying information about crimes and as a means to prevent
embarrassment. Those rules are ignored far too often.

A number of military logs in the Afghan War Diary and the Baghdad airstrike video
footage appear to demonstrate attacks on civilians by coalition forces which might
amount to violation of the Fourth Geneva Convention. Full official disclosure of
information about the allegations of ill treatment of civilians by the coalition forces in
Afghanistan and Iraq would allow light to be shed on what has occurred. It would also
enable a transparent and fair judicial review. Hence, the Baghdad video and much of
the material in the Afghanistan War Diary should have been subject to mandatory
disclosure under access to information laws in the respective countries of coalition
governments, where, again, the overall public interest should trump secrecy
exceptions.

2. Prosecution of Web Sites for Releasing National Security Information
There has been considerable discussion about the possible prosecution of WikiLeaks
founder Julian Assange and other WikiLeaks activists under state secrets or espionage
legislation in the United States or other countries. ARTICLE 19 believes that this
would be an improper use of these laws and urges all governments to refrain from
taking this step.
The statements of defence and state officials, calling for or warning of prosecution,
might amount to censorship of media at a time and on issues – the war in Iraq and
Afghanistan -– where transparency and the public right to know should govern the
government's relationships with the media and the public.
Moreover, it is a well established principle that public authorities bear sole
responsibility for protecting the confidentiality of official information. Other persons
and entities, including WikiLeaks and journalists, should never be subject to liability
for publishing leaked information, unless it was obtained through fraud or another
crime.

3. Protection of Whistleblowers
ARTICLE 19 also believes that those who provide information to WikiLeaks should
not be prosecuted if there is a strong public interest in the release of the information.
Officials who act as whistleblowers and release information in the public interest
without authorisation should not be prosecuted for releasing information that reveals
crimes, abuses, mismanagement and other important issues in the public interest.
Although we recognise that civil servants may legitimately be placed under
obligations of secrecy, these should be limited by their obligation to serve the overall
public interest. Anyone disclosing classified information should benefit from a public
interest defence whereby, even if disclosure of the information would cause harm to a
protected interest, no liability should ensue if the benefits of disclosure outweigh the
harm. Instead, there should be strong legal protections and structures to facilitate
disclosure.
Countries should adopt comprehensive whistleblowing laws which apply to the public
and private sector and apply in national security cases. Secrets laws should recognise
that whistleblowers should be protected from prosecution and should include public
interest exemptions for revealing information such as human rights abuses and
corruption.
Countries should also enact laws based on international standards protecting
journalists from revealing their confidential sources and materials and those laws
should apply to every person who is engaged in the business of making information
available to the public.

4. Ethical Obligations of New Media
ARTICLE 19 believes that new media – including WikiLeaks and similar sites,
should follow good ethical practices to ensure that the information made available is
accurate, fairly presented and does not substantially harm other persons. While such
ethical codes have not yet been developed for new media, we believe that existing
journalistic codes provide a useful basis from which to begin.
Sites such as WikiLeaks should also recognise that technical protections to protect the anonymity of sources only have limited effectiveness. If the whistleblower is
identified through other means, they can face serious employment and legal sanctions and even physical danger.

ARTICLE 19 is not qualified to take a position on whether the release of all of the
Afghan documents by WikiLeaks was appropriate in these terms. To date, no credible
information has been made public that links the release of the information to the harm of any individual.

Recommendations:
ARTICLE 19 therefore recommends:

• The governments of coalition forces and other states should refrain from
criminal investigation and prosecution of WikiLeaks activists for the
publishing of the materials on Iraq and Afghanistan as well as their sources
• All states should adopt and properly implement right to information laws
which recognise the public interest in disclosure of information. Restrictions
on access for national security reasons should be strictly limited
• All states should adopt comprehensive whistleblower-protection laws
• State Secrets Acts should only apply to those public officials and others who
have agreed to be subject to them. Journalists and publishers should not be
liable under these laws for disclosing information of public interest. The laws
should also include public interest defences for protecting whistleblowers
• Internet sites should follow good ethical practices in their reporting activities.

NOTES

 For more information, please contact David Banisar, Senior Legal Counsel,
ARTICLE 19, at banisar@article19.org, +44 207 324 2500
 The Johannesburg Principles on National Security, Freedom of Expression and
Access to Information, Freedom of Expression and Access to Information are
available at
http://www.article19.org/pdfs/standards/joburgprinciples.pdf

• ARTICLE 19 is an independent human rights organisation that works around the
world to protect and promote the right to freedom of expression. It takes its name
from Article 19 of the Universal Declaration of Human Rights, which guarantees free
speech.

ARTICLE 19, Free Word Centre, 60 Farringdon Road, London EC1R 3GA, United Kingdom
Tel: +44 (0) 20 7324 2500 / Web: www.article19.org / Email: info@article19.org
~~~~~~~~~~~~~~~~~~~~~~~~~~~~



From a fake Lady Gaga CD to a thumb drive that is a pocket-sized bombshell – the biggest intelligence leak in history
guardian.co.uk, Sunday 28 November 2010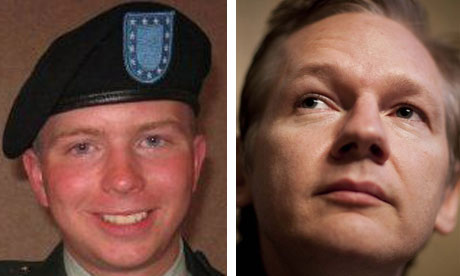 Tue Nov 30,


AFP Photo:
Australian founder of whistleblowing website, 'WikiLeaks', Julian Assange holds up a copy of the Guardian..
PARIS (AFP) - WikiLeaks' mass exposure of US diplomatic cables has divided liberal intellectual opinion between supporters of total government transparency and those who see a threat to democratic rule.
While the world's press has splashed the revelations across its front pages even some journalists have begun to wonder whether too much exposure is a good thing in an era of instant global electronic communication.
"Much, but not all state information should be public," argued the Financial Times, in a leader. "In order for states to conduct their affairs effectively, and ensure the security of their citizens, some secrets must remain."
WikiLeaks founder Julian Assange defended previous leaks of US military reports from Iraq and Afghanistan by declaring he was "trying to stop two wars" -- but some fear his latest stunt could provoke new ones.
News that Arab leaders and Israel are pushing for US air strikes on Iran and that China is rethinking its protection of North Korea's erratic regime has increased tensions in two of the world's most dangerous flashpoints.
And some fear that if diplomats can no longer be confident that they can exchange frank views in private, then it will be harder for capitals to resolve disputes without inflaming public opinion or angering rival players.
"In a world criss-crossed by violent conflict, a state can not permanently operate under the constant gaze of opinion," warned Laurent Joffrin, editor of France's left-wing Liberation daily, a champion of media freedoms.
The stolen cables were downloaded from a supposedly secure US government network that was set up in the wake of the terror attacks of September 11, 2001 in order to allow analysts to rapidly share and compare information.
Some have expressed concern that diplomatic and intelligence agencies will retreat inside their shells and fail to prevent future attacks if clues are scattered across different, more tightly-controlled networks.
During previous WikiLeaks revelations, the group was also accused of putting the lives of US informants and locally recruited agents at risk.
Such concerns even motivated groups more usually associated with campaigning for openness and press freedom to criticise the all-or-nothing character of an operation that exposed tens of thousands of documents.
This time round, however, there has been praise for the professional investigation run by the five newspapers which got first sight of the files -- the New York Times, The Guardian, Le Monde, El Pais and Der Spiegel.
Rather than splashing a quarter of a million cables unmediated onto the public domain, reporters from the dailies pored over them for weeks, seeking stories of public interest and evaluating the risks of exposure.
"We're more or less satisfied with WikiLeaks' evolution," said the head of independent press watchdog Reporters Without Borders, Jean-Francois Julliard.
"We like this partnership with the newspapers and this work to put things in context, verify the information and draw lessons from it," he said.
Others are less convinced and fear the leaks will erode the bonds of trust between rival capitals without really advancing the cause of open government, especially in the democratic world.
"There's demagogy and a naive faith in thinking that radical transparency will help us reach another democratic level," French political scientist Philippe Braud told AFP, branding the publication an elite parlour game.
"The enlightened few learned very little and the others still think we're hiding everything from them, which can only feed anti-democratic instincts," he said, arguing it is normal to allow leaders special rights and duties.
And, at a time when social networking sites can expose a citizen's private life at the touch of a button, some see in the WikiLeaks exposure another sign of how the Internet itself can erode freedoms.
"There's no reason that democratic checks and balances have to take the form of a sort of electronic 'Big Brother,'" complained former French foreign minister Hubert Vedrine in a newspaper op-ed.
Source
29Nov10 – 10:27 am
You should never shout "fire" in a crowded theatre. Once you have accepted this old adage, you accept that there are limits to free expression. The important word in the first sentence is not "fire", but "crowded". A crowded theatre would lead to a stampede. Where there is a real and identifiable danger, restraint should be shown. Context is everything in the free-speech debate; risk to life is an undeniable caveat. Most other caveats are, however, mere ruses by the powerful to prevent information from reaching the public domain.
It is within these parameters that the furore over Wikileaks and its exposures should be seen. The latest document dump is larger than the Iraq files and potentially more embarrassing, with its State Department assessments of governments and statesmen – from Hamid Karzai to Silvio Berlusconi to Nicolas Sarkozy. Diplomats have launched a frantic round of damage limitation. Oh to have been a fly on the wall during the excruciating conversation between the US ambassador and Downing Street. The Americans are entitled to put their side of the story, to seek to assuage any inconvenience caused.
The founder of Wikileaks, Julian Assange, believes the Americans are going much further than that, carrying out a concerted campaign to undermine and discredit him. I have no information on the cases that have led two Swedish women to press charges of rape and sexual harassment against him. Only those involved do. Mr Assange's legal representatives in the UK suspect that the Swedish authorities are playing the Americans' game, cutting corners in terms of correct legal procedures. So highly charged is the environment that it is extremely difficult to separate information from disinformation
Mr Assange is an unconventional figure, a man who lives in the shadows and enjoys doing so. He is difficult to deal with and holds himself in high regard. When he contacted me through an intermediary two months ago, suggesting that Index on Censorship host him in a London event, I was happy to accept but made clear that I did not want to give him an open forum. I would engage him in debate with a detractor.
He accepted; then he disappeared for five days, not answering phone calls or emails. When he finally surfaced, he stipulated no cameras or photographers, and that we should sneak him in through the back door. I argued that this would not look great for a free-expression organisation. In the end we compromised, and the television crews were allowed in halfway through what turned out to be a fascinating debate with the columnist David Aaronovitch. The sell-out crowd did not give Mr Assange an easy ride. But there was a virtually unanimous presumption towards free speech, something that is woefully lacking in so much of British public life.
This must surely be the starting point. In the US, with its First Amendment, restrictions are seen as an exception to the rule. In the UK, free speech is regarded as a negotiable commodity. An interest group's right to be offended is seen as just as important as the right to air an opinion. A government's right to secrecy is seen as more important than the public's right to know.
The mainstream media in the UK are serial offenders. Newspapers that have no compunction about invasions of privacy or about shrill comment devote precious little time or energy to challenging authority through rigorous investigative journalism. Most political "scoops" are merely stories planted by politicians on pliant lobby hacks. Editors and senior journalists are habitually invited into MI5 and MI6 for briefings. These are affable occasions, often over lunch. There is no harm in that. What tends to happen, however, is that journalists are tickled pink by the attention. They love being invited to the "D-notice" committee to discuss how they can all behave "responsibly". It makes them feel important. Many suspend their critical faculties as a result.
Far from being "feral beasts", to use Tony Blair's phrase, the British media are overly respectful of authority. Newspapers and broadcasters tend to be suspicious of those who do not play the game, people like Mr Assange who are awkward outsiders. Some editors are quite happy to help the authorities in their denunciations of him, partly out of revenge for not being in his inner circle.
All governments have a legitimate right to protect national security. This should be a specific, and closely scrutinised, area of policy. Most of our secrecy rules are designed merely to protect politicians and officials from embarrassment. Documents are habitually over-classified for this purpose. The previous government made desperate attempts to stop legal evidence of its collusion in torture from reaching the public. Ministers argued, speciously, that this was to protect the "special intelligence relationship" with Washington. It will be intriguing to see how much information is allowed to be published when Sir Peter Gibson begins his official inquiry. Precedent suggests little grounds for optimism.
As with all free speech, as with Wikileaks, context is key. It is vital to know when governments collude in torture or other illegal acts. It is important to know when they say one thing in private (about a particular world leader) and do quite another in public. It is perturbing to know that aid agencies may have been used by the military, particularly in Afghanistan, to help Nato forces to "win hearts and minds".
These questions, and more, are vital for the democratic debate. The answers inevitably cause embarrassment. That too is essential for a healthy civil society. Good journalists and editors should be capable of separating the awkward from the damaging. Information that could endanger life, either in the short term or as part of a longer-term operation, should remain secret.
Once this latest flurry is over, prepare for the backlash. Mr Assange's industrial-scale leaking may lead to legislation in a number of countries that makes whistle-blowing harder than it already is. Perhaps the most curious aspect of the Wikileaks revelations is not that they have happened, but it took someone as mercurial as Mr Assange to be the conduit. Rather than throwing stones, newspapers should be asking themselves why they did not have the wherewithal to hold truth to power.
John Kampfner is the chief executive of Index on Censorship